ICU Campus
International Christian University is located in Mitaka City, a suburban community adjacent to Tokyo. The campus is a wooded area of 638,000 ㎡, one of the most spacious in Japan.
Major buildings include: the Library; University Hall (Honkan); the Education and Research Building, which houses faculty offices; Diffendorfer Memorial Hall; Physical Education Center; Sports Club House; the ICU Church; Dining Hall (Dialogue House); and student dormitories.
For more information=>ICU Campus and Facility / Campus Photos
Housing
On-Campus Housing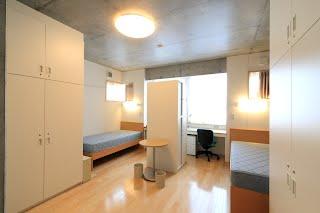 ICU's on-campus dormitories for SCJ participants are Zelkova House, Ginkgo House, Oak house and Maple house. We use one of the dormitories out of above in each year. All of them are a three story shared-living co-educational dormitory consisting of common living and dining areas and separate living pods, each with twin rooms. As Japanese students leave ICU during the summer, the summer residents are mainly SCJ participants, but there are ICU student helpers, native speakers of Japanese, in the dorm.
For more information=>Housing: Domitories
In 2021, students did not reside on campus since the Summer Courses in Japanese were conducted online and we cannot provide any accomodation for 2022 SCJ.
Off-Campus Housing
ICU consigns the introduction of Off-campus Share House to ICU Service Co., Ltd.. ICU Service, in cooperation with the cooperative agents, makes arrangements to provide beneficial conditions to students who are looking for off-campus residences. More information will be announced on "How to Apply" page around December.
Homestay
Living with a Japanese family will enable you to experience Japanese culture, daily life and also to practice your Japanese language. The Homestay program is administered by the company "Homestay in Japan". More information will be announced on "How to Apply" page around December.
Other
Student Support
A nurse will be on campus during course periods. The student support such as Counseling and Special Needs Support Service are available for SCJ participants.
Dining Hall (Dialogue House)
At the dining hall, a mix of Japanese, Western and Chinese foods are offered at reasonable prices (¥400-700). Please note that the variety of food may be limited. The Dining Hall offers lunch every day, and dinner service until 7 p.m. on weekdays but does NOT offer breakfast service. On Saturdays, Sundays and National holidays, there is NO Dinner service. Vegetarians, or those with dietary restrictions, should be warned that, although there is vegetarian menu, meat, often pork, is used in many of the dishes here. The Dining Hall is the only facility on campus serving meals and its operation hours are subject to change.
Insurance
ICU will arrange for SCJ participants except residences in Japan to be issued with an accident and illness insurance policy. The insurance covers only the SCJ period and does not cover flights.
NOTE: Information on this website is subject to change without notice.