The Global House was built as part of a project to commemorate the 50th Anniversary of the Founding of International Christian University, aiming to provide an international, Christian, and democratic residential environment for university students. Founded as the "University of Tomorrow" in the middle of the 20th century, today ICU greets the 21st century, in which the problems of "tomorrow" involve not only the way different nations should relate to each other, but the way people should live as "Global Citizens." Out of the hope that people from all parts of the globe will come together in this building to create a "community without borders," the building has been given the name "Global House."
Dormitory Facilities and Equipment
◇ In the individual student rooms of each unit (4 rooms per unit)

Bookshelf, closet, desk, chair, file cabinet, desk lamp, WiFi, TV antenna hookup, bed, mattress, chest of drawers

◇ In the common living space of each unit

[Living Room] (1 per unit): table, chairs, WiFi, TV antenna hookup, intercom

[Kitchenette] (1 per unit): induction cooktop, microwave oven, refrigerator, hanging shelves and cupboard

[Wash basin and shower room] (1 per unit): washing machine

[Unit entrance area]: shoe shelves

[Bathroom]

◇ Other common facilities in the dormitory

Entrance lobby, lounge, mail boxes, drying room, bath, study room, storage room, rooftop area for hanging laundry

◇ Common facilities outside of dormitory

Bicycle parking space, garbage collection site

* There is a supervisor's office beside the entrance of Global House.
What to Bring
Toiletries, towels, clothes hangers, room slippers and other personal belongings for your comfort are necessary.

The information on bedding lease and linen supply service will be sent to the students accepted for entry to the dormitories.
Contract should be renewed annually.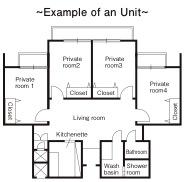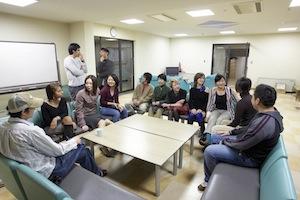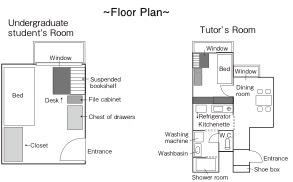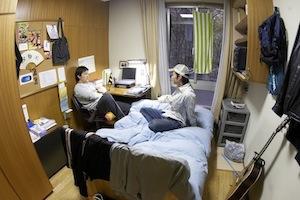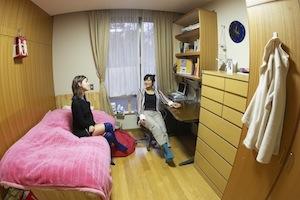 Duties
Although dormitory supervisors clean the common use areas such as the lounge, study room, common use bathroom, and hallways, and around the dormitory, students of each unit should cooperate with each other to share the duties such as cleaning the kitchenette, living room, shower room, and bathroom.

Each member is expected to participate in monthly dormitory meetings. There is some kind of penalty for being absent from the meetings. Also, there are many activities within a dormitory and among the undergraduate dormitories which participation is voluntary but will help promote friendship and enjoyable.
Rules
① Curfew

There is no curfew in Global House.

② Visitors

Visiting hours are from 9 a.m. to 11 p.m.

Visitors are forbidden to stay overnight.

③ Drinking

Consumption of alcohol is not allowed in the dormitory, except for within the units themselves.

④ Smoking

Smoking is prohibited throughout the dormitory.

⑤ Compensation for room key

Compensation must be made for lost or broken room key.
Annual Events of Global House
April

Welcoming Events for April Students

May

Okada Cup (football tournament : male)

June

Election of committee members

Farewell Party for September Students

July

Summer recess (dormitories closed)

August

Summer recess (dormitories closed)

September

Welcoming Events for September Students

October

Dormitory Festival

ICU Festival (sell food at a booth)

November

End of Term Party

January

Election of committee members

Okada Cup (football tournament : male)

Rice cake making party

March

Farewell Party for April Students

【Note】
Above schedule is subject to change.

During the term, dormitory meetings are held once a month and it is mandatory to attend these meetings.