Sep. 1, 2020
Closure of the Donations& Message of Gratitude for "Emergency Support for Students with Financial Hardship caused by COVID-19"
The fundraising activity "Emergency Support for Students with Financial Hardship caused by COVID-19" that started in May 2020, has come to an end in late August 2020. We would like to express our deepest gratitude for your support.
Because of thoughtful contributions from many of you, we could receive donations that far exceeded our initial target figures.
The University has appropriated your kind donations to the special benefit (Autumn Term's tuition fee and facilities fee), in order to relieve students who have suffered financial losses and have difficulty in continuing their studies due to COVID-19.
We are truly grateful for your kindness and support.
We would greatly appreciate your continued understanding and cooperation.
Presently, it takes a longer time than usual to issue the receipts and reply to inquiries.
Since we could receive so many supports, we are responding to them sequentially.
We apologize for any inconvenience this may cause you. We would highly appreciate your understanding.
Thank you very much.
For inquires:
Advancement Office,
International Christian University
e-mail: foi@icu.ac.jp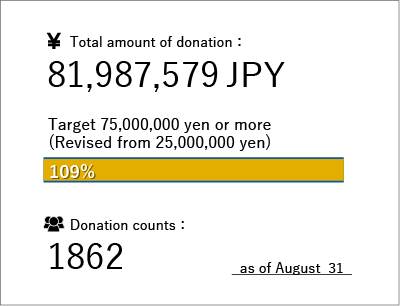 Message of gratitude from Chair of the Board of Trustees and President
Messages of gratitude from students who have received your donation