Fundraising for Renovation of the East Wing of the Diffendorfer Memorial Hall
The East Wing of the Diffendorfer Memorial Hall (DMH East Wing; completed in 1958; designed by Vories Architecture firm) is a three-story, one-story basement building named after Dr. Diffendorfer, who was one of the founders of ICU. Many ICU students have grown fond of DMH East Wing, the first student union hall in Japan, as a base of students' activities and a place for interaction between students and faculty members. It is also widely utilized as a meeting place for Christian organizations and church members on campus.
Moreover, the historical values of modern architecture, especially its external appearance, and innovative design by a significant architect Vories were highly evaluated, and it has been registered as a DOCOMOMO-Japan-selected-architecture in 2016.
In this renovation work, we plan to upgrade the facilities and equipment and repair the deteriorated interior parts while retaining the original design of the building.
Construction is scheduled for completion in the winter of 2021.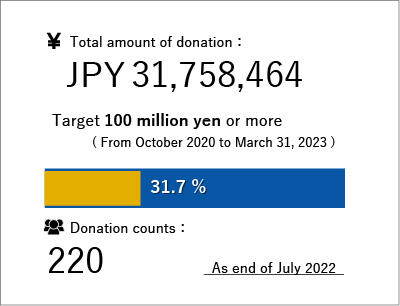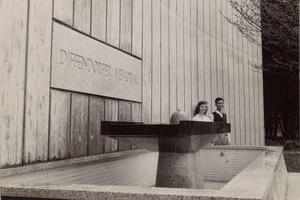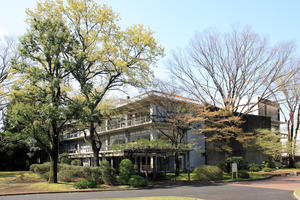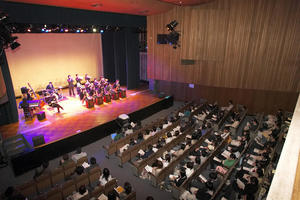 Outline of "Fundraising for Renovation of the East Wing of the Diffendorfer Memorial Hall" for Campus Facility Development
Purpose of Donation

To utilize as part of the cost of renovation work for DMH East Wing

Total Target

JPY 100 million or more

Term of Donation

October 5, 2020 - March 31, 2023

Tax Exemption for Donation

For a resident in Japan, donations to ICU will be tax-deductible.
For donors living in the USA, Canada, or Mexico, please contact JICUF (Japan ICU Foundation) in New York.

Donor Recognition

ICU will engrave the names of the donors who contribute 10,000 yen or more during the donation period on an honorable recognition plaque to be installed in DMH East Wing after the donation period ends. Your contribution will be a part of ICU's history for many years to come.

Make use of "the group donation program" in order to retain your memories of Diffendorfer Memorial Hall East Wing forever. We have prepared special honor boards to engrave the names of those groups which have donated 200,000 yen or more to this program. It is a specially-manufactured board that reused the glass panes of the Diffendorfer Memorial Hall East Wing, and is different from the honor boards for individuals.
For the details of "group donation", please refer here.

ICU will honor all donors by publishing their names in the university newsletter, "The ICU," and other media (except those who wish to remain anonymous).
Details of the donations will be posted in the Advancement Office's webpage.
For donors whose cumulative donations exceed a certain amount, ICU will present a commemorative gift to them.

Special Commemorative Gift

In this donation, those individuals who donated 100,000 yen or more will be presented a special commemorative gift made from glass panes used in the Diffendorfer Memorial Hall. Those who donate one million yen or more will be gifted a three-piece set with one of each design. Please refer to "Special Commemorative Gift" section in this page.
【Message from the Director of the Diffendorfer Memorial Hall】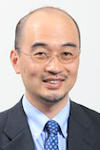 When asked which place is the most fondly remembered in your college days at ICU, many alumni would probably answer that it is Diffendorfer Memorial Hall (DMH). DMH was built in 1958 as Japan's first university student hall of university by William Merrell Vories, an American architectural genius whose works have been a lasting legacy in the history of modern Japanese Western architecture. DHM celebrated its 60th anniversary in 2018 with many alumni visiting their alma mater. While much of Vories' architecture is registered as Tangible Cultural Properties, which is Cultural Heritage designated by the Japanese government, many of the best designs of Vories' architecture are also embedded in the DMH East Wing at ICU.
As several decades have passed since its construction, presently, we have decided to implement a large-scale renovation with safety improvements at the core, in order to revive it into a vibrant student union hall again as a socializing and relaxing space at the university. After the renovation, DMH East Wing, which is filled with the memories of our graduates, will continue to be utilized as a precious home of university life for our younger students. We would cordially like to ask for your kind support and generous donations.
Naoki Yajima
Director, Diffendorfer Memorial Hall

Introduction of the DMH East Wing (video)
DMH: Explanation as a historical architecture (in preparation)
Special Commemorative Gift for the "Fundraising for Renovation of the East Wing of the Diffendorfer Memorial Hall"
Commemorative Gift : Glass Sun-catcher (not for sale) made of the sash glasses of Diffendorfer Memorial Hall
Design : W. M. Vories & Company Architects Ichiryusha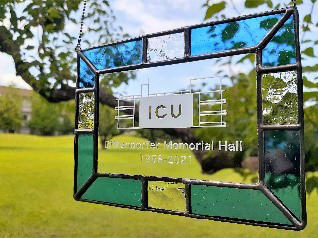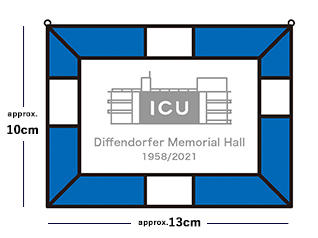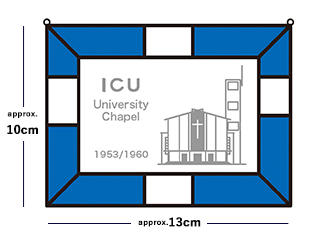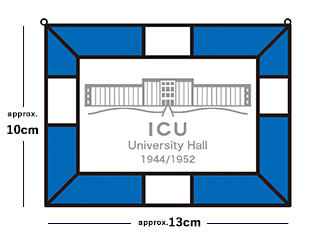 ・There will be 3 different designs to be made. DMH East Wing, University Hall(Honkan )and University Chapel. We are afraid that the designs of commemorative gifts cannot be specified.
・The photo is a sample. It may differ from the item to be presented.
・Please note that the number of commemorative gifts is limited. If the number of donations exceeds the number of commemorative gifts, the ICU original goods will be presented.
Honor board images