Fundraising for Construction of the New Educational Facility
Troyer Memorial Arts and Sciences Hall

The New Building will be constructed on a site spreading from the west side of the University Hall to the Science Hall. All facilities and functions of the Science Hall, including the faculty offices and laboratories, will be relocated to this four-story building. In addition, the New Building will have five large classrooms which all students, mainly first and second-year students, will use. Five Research Institutes of humanities and social sciences and some of the administrative offices will also move there.
Moreover, at the center of the New Building, a space named "Hub Central" will be newly provided, as a symbolic place to create connections between ICU community members and foster a climate of interdisciplinary education and research. Furthermore, a new Quadrangle (courtyard) will be created outside adjacent to the Hub Central, surrounded by the New Building, University Hall, and Integrated Learning Center.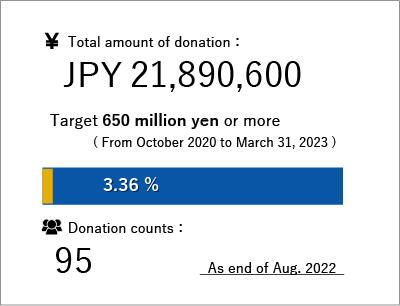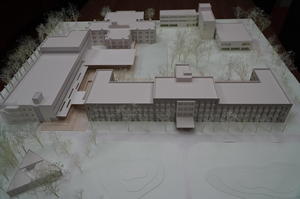 Architectural model of New Building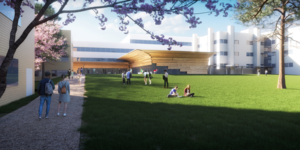 Perspective drawing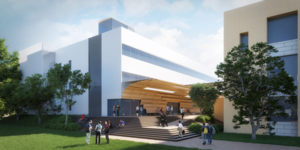 Perspective drawing
Outline of "Fundraising for Construction of the New Educational Facility" for Campus Facility Development
Purpose of Donation

To cover part of the construction cost of the New Educational Facility

Total Target

JPY 650 million or more

Term of Donation

Until March 31, 2023

Tax Exemption for Donation

For a resident in Japan, donations to ICU will be tax-deductible. For donors living in the USA, Canada, or Mexico, please contact JICUF (Japan ICU Foundation) in New York.

Donor Recognition

ICU will engrave the names of the donors who contribute 10,000 yen or more during the donation period on an honorable recognition plaque to be installed in the New Educational Facility after the donation period ends. Your contribution will be a part of ICU's history for many years to come.
ICU will honor all donors by publishing their names in the university newsletter, "The ICU," and other media (except those who wish to remain anonymous).
For donors whose cumulative donations exceed a certain amount, ICU will present a commemorative gift to them.

Naming rights

For specific spaces, naming rights will be granted. For more information, please refer to "Naming Rights for Specific Spaces" section in this page.
【President's Message】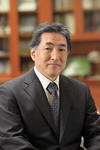 The faculty offices and laboratories of the Natural Sciences Department located in the current Science Hall will be relocated to the New Building, but it is not going to become a new Science Hall. The New Building will also house the humanities and social sciences institutions and large classrooms, and it bears significance in the sense of being a point of intersection and integration of multiple fields unique to liberal arts. The Hub Central to be established in the first floor is a space that cuts across these academic fields. In other words, it is a space that symbolizes the diverse and free traffic that occurs in daily academic work such as classes and research. At the same time, it can be a space that makes the daily human interactions and dialogues, set in the academic daily life, such as when students engage in discussions among themselves or with faculty members over a cup of coffee or when using the space for photography or other exhibitions. The Hub Central is expected to be a space that symbolizes liberal arts, a place where human and academic diversities encounter in various forms, and leads to a sequence of creative moments. The Quadrangle (a courtyard) outside, which forms a counterpart of the Hub Central inside, is expected to have a similar impact.
Moreover, natural sciences of ICU will have more visibility as open lab spaces and glass-sided laboratories. The concept of knowledge in natural sciences, which searches the truth based on using reproducibility and scientific universality, is incorporated into the daily life of the ICU community even if there is no physical participation. Created will be an effect, more than ever, of that concept getting structured into the overall knowledge of each and every individual, almost unconsciously. And, this will constantly energize the awareness of how that impact will creatively engage not just with natural sciences but also with the world of the future, for example through an experimental space of environmental research tackling issues such as the relationship between nature, culture, society and scientific knowledge, and how that would solve the various issues. I am also expecting the New Building to have an impact where the concept of existence that is open to the world and others will always be questioned and innovated through encounters with diverse and heterogeneous elements.
President Shoichiro Iwakiri
(Former Chair of the Study Committee for Classroom and New Functions)

New Building to Bring About Evolution in ICU's Liberal Arts (The ICU No.46)
Current Progress of the New Building Construction Plan
※ The plan and rendering of the facility may be subject to change.
※"New Educational Facility" is a tentative name of the building.
Messages from Donors (in preparation)
Naming Rights for Specific Spaces
Naming rights will be granted for the following spaces in the New Educational Facility, all of which will be utilized by ICU community members. The names bestowed on the spaces by the donors will be fondly acknowledged by ICU members and will become a part of their new everyday lives. They will also be passed down from generation to generation as a treasured legacy.
Naming Rights for the New Educational Facility
| Space to be named | Donations | Number of Rooms |
| --- | --- | --- |
| Hub Central | JPY 120 Million or more | 1 |
| 300-student Classroom | JPY 100 Million or more | 1 |
| Each 180-student Classroom | JPY 50 Million or more | 4 |
| 18-student Seminar Room | JPY 10 Million or more | 1 |
| Each 12-student Seminar Room | JPY 6 Million or more | 5 |
| Each Faculty Office | JPY 4 Million or more | 29 |
When naming the spaces, we would request that the name is appropriate for the educational facility, such as relating to the ICU's philosophy of dedication. If interested in this matter, please contact the Advancement Office for more information. Please also consult with the office about spaces that can be named at the time of inquiry.
( 国際基督教大学における施設命名権に関する基本方針 )