International Service-Learning Conference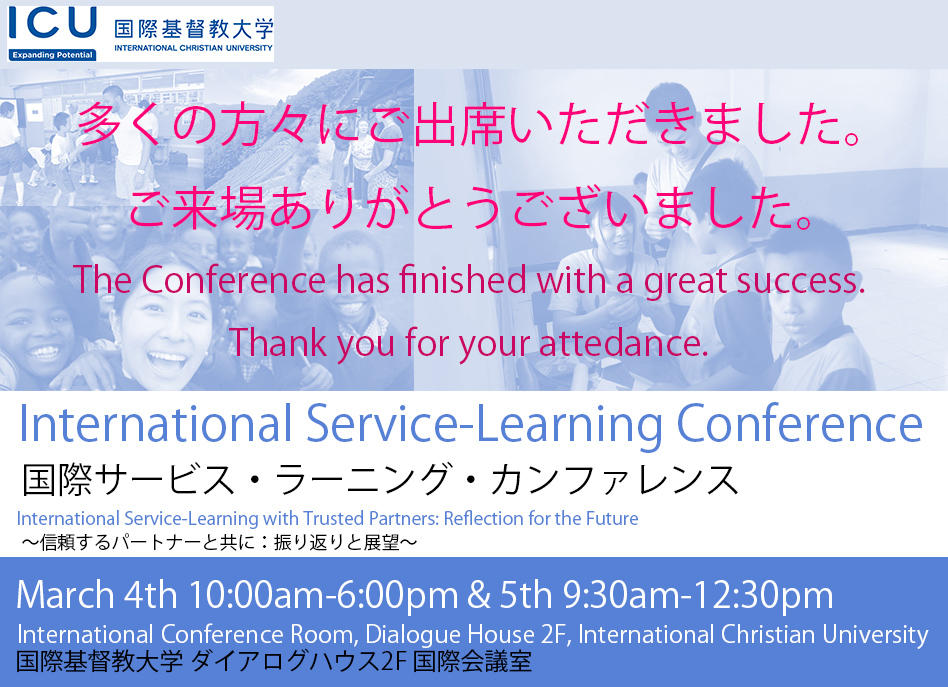 International Christian University (ICU) is pleased to announce that there will be an international conference titled "International Service-Learning with Trusted Partners: Reflection for the Future". The conference is subsidized from the Top Global University Japan's initiative called SGU, of the Ministry of Education, Culture, Sports, Science and Technology of Japan.
The purposes of the conference are to foster and promote international service-learning together with ICU's service-learning (SL) partners, and to provide opportunity and platform to share the information and learnings among the universities and institutions including the SGU accredited Japanese universities. Main language used in the conference is English. Simultaneous translation from English to Japanese is available.
The conference features Dr. Carol Ma of Singapore University of Social Sciences as a keynote speaker, and invites speakers from ICU's partner universities and institutions to introduce their international service-learning activities. Furthermore, ICU's newly introduced service-learning program in Africa since last year will be covered, and also JSSL* program, along with testimonials of ICU students who took service-learning course.
*JSSL: Japan Summer Service-Learning is a program in which students from ICU, Asia and US partner universities spend about 30 days together in vicinity of Mitaka where ICU is located, and other parts of Japan.
What is service-learning?
It is a program in which students engage into service (volunteer) activities for certain period of time at NGO or public institution in home country or abroad. Students learn from reflection. Utilizing networks etc. ICU and SLAN* partner universities in Asia exchange students.
*SLAN (Service-Learning Asia Network): Click
here
Even if not familiar with service-learning, the conference is recommended to those who are interested in the followings;
- volunteer activities in local community in overseas where local universities and institutions cooperate
- accreditation of service(volunteer, community engagement) activities
- supports for students who study abroad and issues
- what universities in Asia do for international program
1. Conference dates and place
Dates and time: March 4(Mon) 10:00-18:00 (registration starts at 9:30)
18:00-20:00 Reception at dining hall
March 5 (Tues) 9:30-12:30 (Door opens at 9:00)
Attendance for both days are recommended but attendance on either day is possible.
Place: International Christian University, Tokyo Japan
2F Dialogue House, International Conference Room
3-10-2 Osawa, Mitaka Tokyo 181-8585 Japan
https://www.icu.ac.jp/about/access/
2. Capacity: 150 persons
3. Cost: Free (advance registration required, first come first served)
We may limit the number of people from same organization depending on the situation.
4. Program (tentative)
Day 1 March 4, 2019
9:30 Registration opens
10:00-10:30 Opening remarks (President of ICU, SLC Director)
10:30-12:00 Keynote speech
(Dr. Carol Ma, Singapore University of Social Sciences)
12:00-13:00 Lunch break (at dining hall)
13:00-16:10 Presentations by partner universities/institution
-Union Christian College (India)
-Lady Doak College (India)
-Assumption University (Thailand)
-Petra Christian University(Indonesia)
-Silliman University (Philippines)
-The Amity Foundation(China)
16:30-17:15 Testimonials by ICU students
[Optional]
18:00-20:00 Reception
Day 2 March 5, 2019
9:00 Door opens
9:30-9:40 Opening remarks (SLC Director)
9:40-10:15 Presentation by Prof. Mikiko Nishimura
"Liberal arts education and service-learning:Towards nurturing engaged global citizenship"
10:15-11:00 ICU presentation on JSSL
11:00-11:30 Presentation by partner institution
-GLMi (Kenya)
11:30-12:00 Testimonials by ICU students
12:00-12:30 Wrap up and closing remarks (VP of ICU)
[Optional]
14:00-16:00 Session for Japanese universities or
14:00-15:30 Campus Tour
*There may be available seats even after the registration deadline. Please contact us at the E-mail address below.
*
The information obtained in this form will be used only for the purpose of the conference registration.
Organizer/For Questions
Service-Learning Center,
International Christian University, Tokyo Japan
Tel 0422-33-3687
Email: slc@icu.ac.jp