International SL Testimonials 2018
Lady Doak College, India
Students from Hong Kong, Korea and Japan support together at home for handicapped children, elementary schools and orphanages
It was a month I was able to learn about Indian culture, ethnicity, and society, including cross-cultural exchange with students from various countries. In service activities, we visited two places of local elementary schools and urban high schools, and made presentations on our (Japan, Korea, China) culture, global warming, and gender issues.
It was difficult to teach in a conservative society like India, but it was a very good experience. What I understood there is a difference between private and public schools. The gap between the environment, the ratio of students and teachers, resources is intense. During the month, I learned about India's reality, rigid society, and its education, etc., broadened my view of the world, and was very interested in what I could do in the future and South Asian countries. I also learned about the education system and curriculum in India and decided to make education my major. I went to India and my life really changed!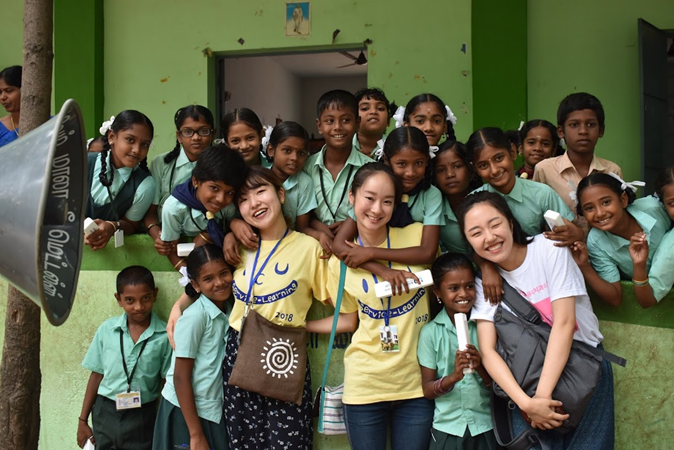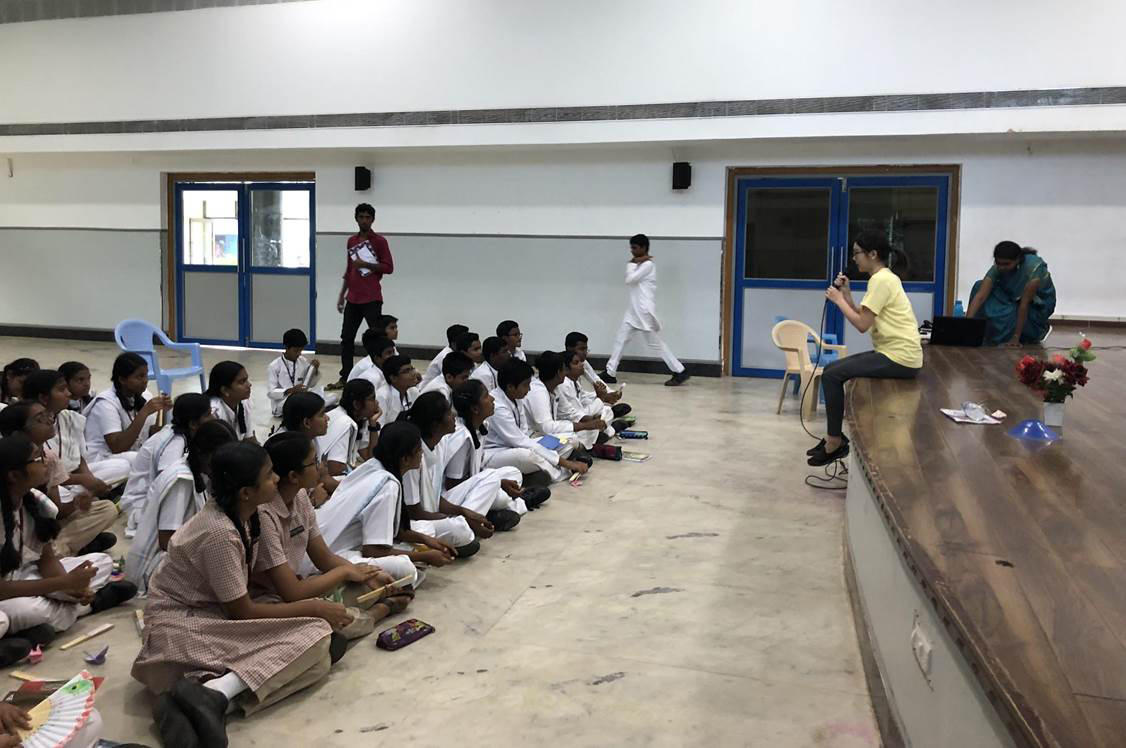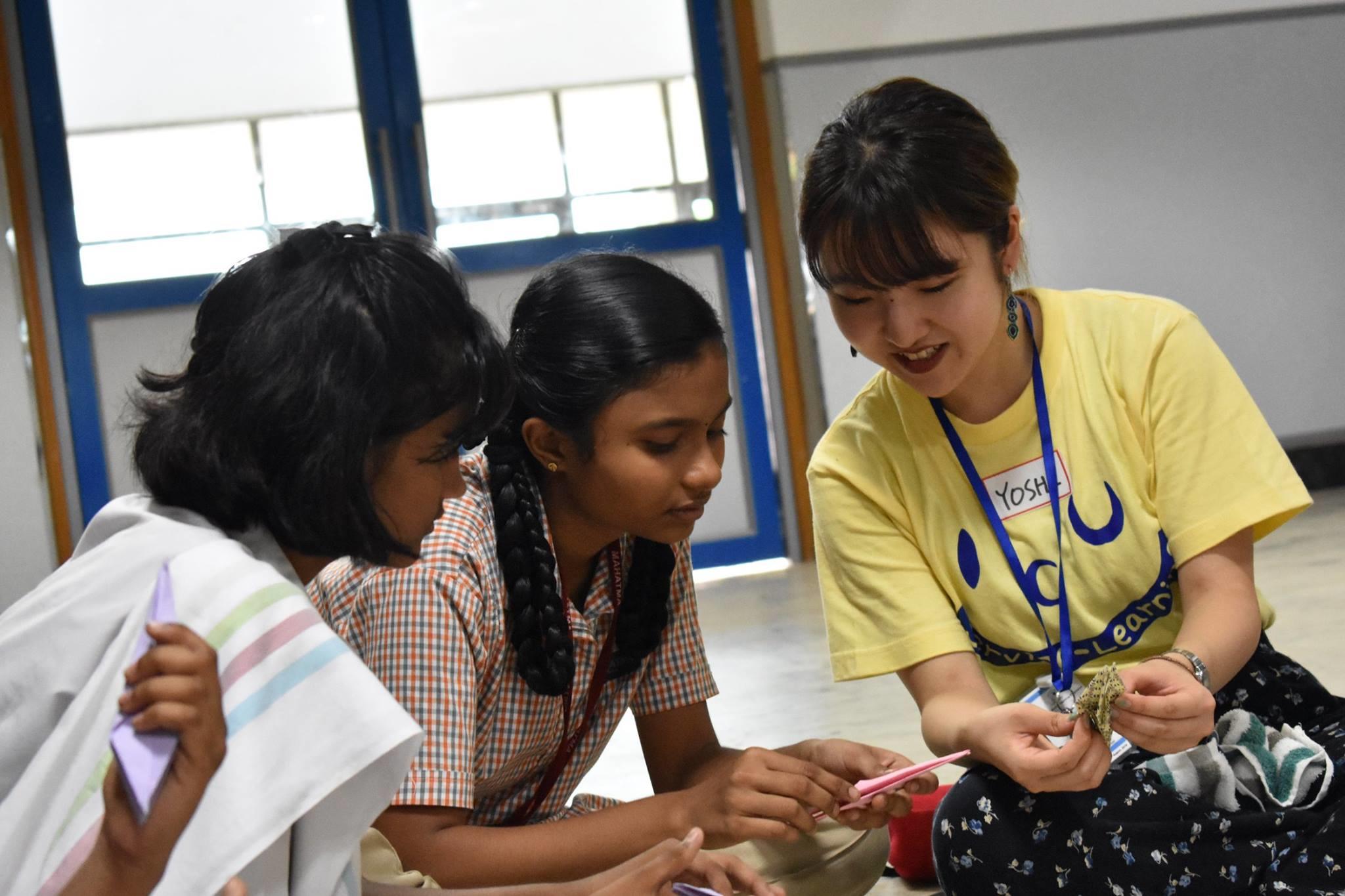 Union Christian College, India
Taking lectures at UCC and communications with students at blind schools and elementary schools
They welcomed us with such hospitality, and there were many cases where I felt I received more services than we gave. The fact that I could take classes in various fields at the local university and interact with many students is a very good memory. The most striking thing was that Kerala, the area where we stayed, was hit by a flood which only takes place once in every 100 years. I learned the hard way how valuable things are which I took for granted. The care for us for treating us as guests, by the Indian people despite the disaster is very impressive also. Even though they are going through hard time themselves, they showed care for us Japanese, and we were really grateful. The university became a shelter and many volunteers were dispatched, but we could only wait quietly in the dormitory.
I think that we are not the first to have experience of being the service receiving party while staying at the place where the service activity is most performed. It was one month I learned to receive services from others, not to learn through services to others. I think that the emergency situation of flood brought me a lot of learning and lessons. I talked with lots of people every day, did various things, and was tired of being tired every day rather than having fun. It was not that I regretted having participated in the program at all, but it was too fulfilling and beyond "fun". It was one month consisting of fresh and meaningful days. I think that there are many things that I can learn from service activities, but I often learned a lot of things in ordinary everyday life and often reflecting about services. I am sure that memories of service- learning will be of the lifelong.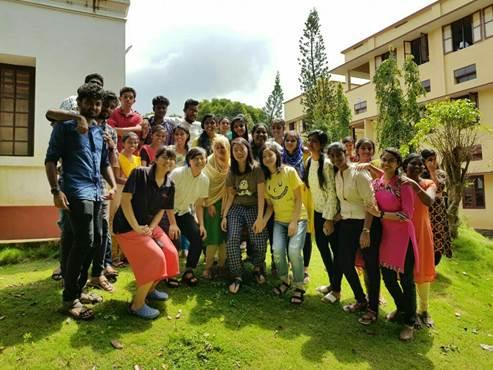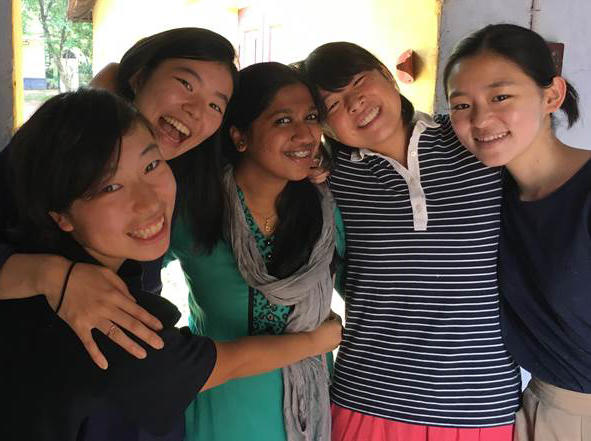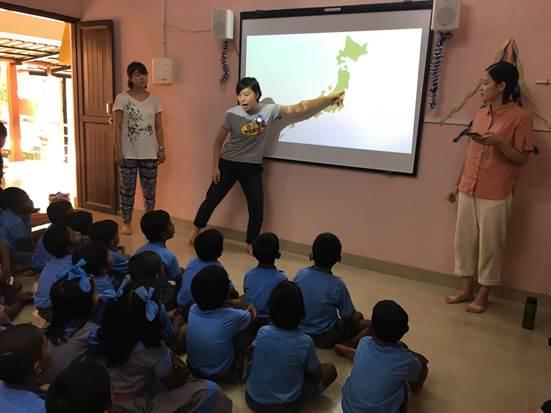 Assumption University, Thailand
Teaching at Japanese class of high school in Bangkok and supporting at welfare facilities in Pattaya etc.
In Bangkok and Pattaya, I participated in two activities: teaching Japanese and volunteering in welfare facilities. Through these activities I was able to learn about Thailand from different aspects, and it was a very meaningful four weeks with new findings. Since I have a strong interest in education, I was looking forward to teaching Japanese at high school in Bangkok and prepared for it so well. However, when it comes to an actual lesson based on the plan that we made, we, students from ICU, all had different ideas and opinions and it was so difficult to settle down. I spent four weeks sharing ideas and thoughts with them, but I found the difference of what each learned even from the same activity, which was really interesting experience. Also, students at Assumption University have been very supportive for 4 weeks, translating Thai into English and a lot of cares. It was a great experience that I could get along with the local students and have cultural exchange. Through interaction with many people whom I met there, not only I could learn deeply, but also could discover many unexpected things.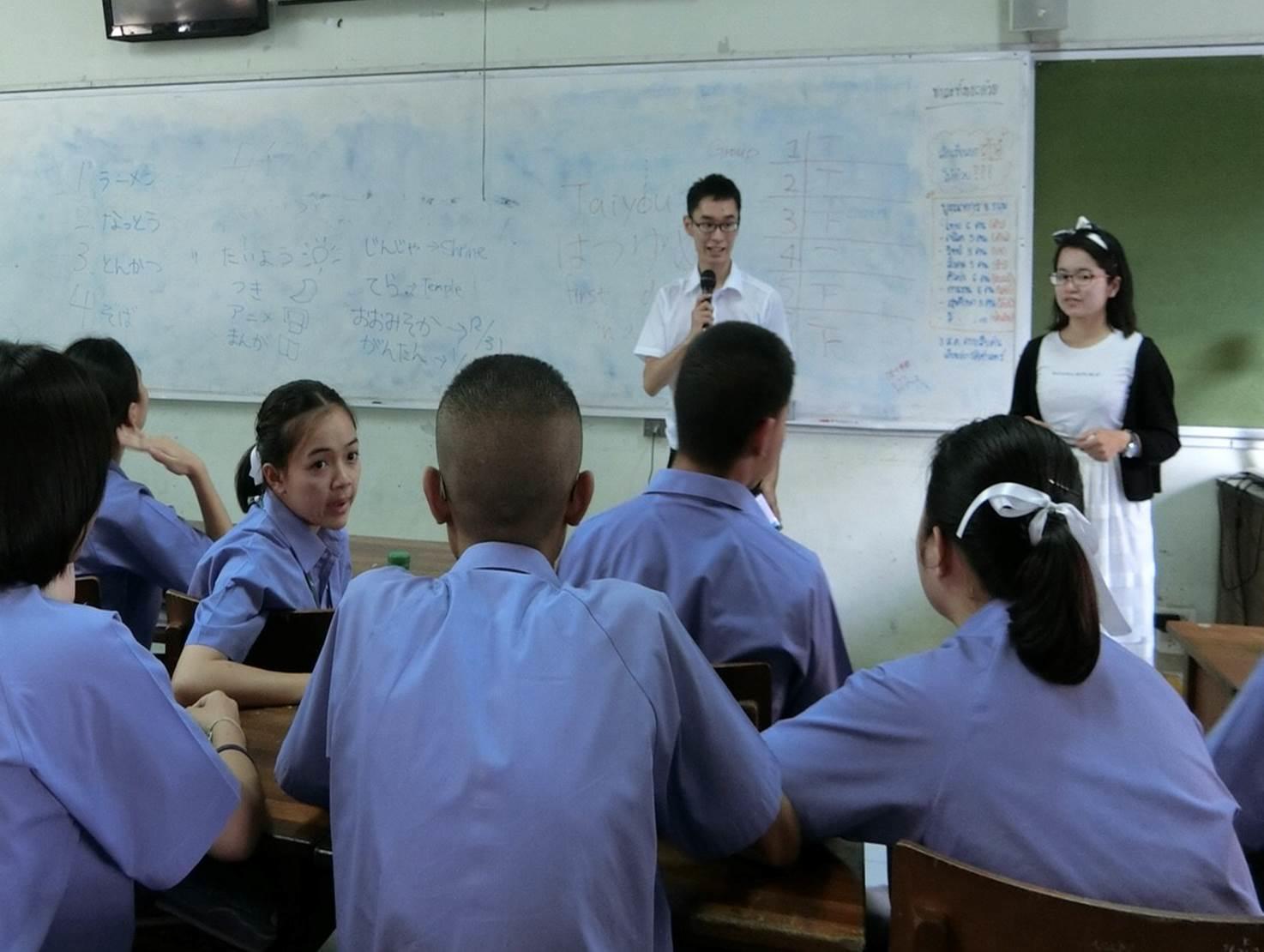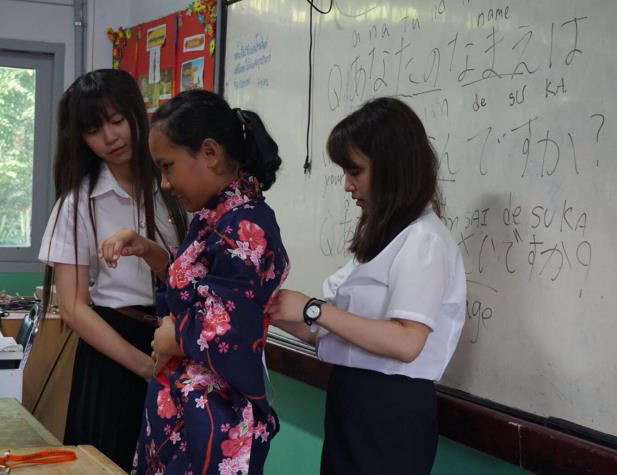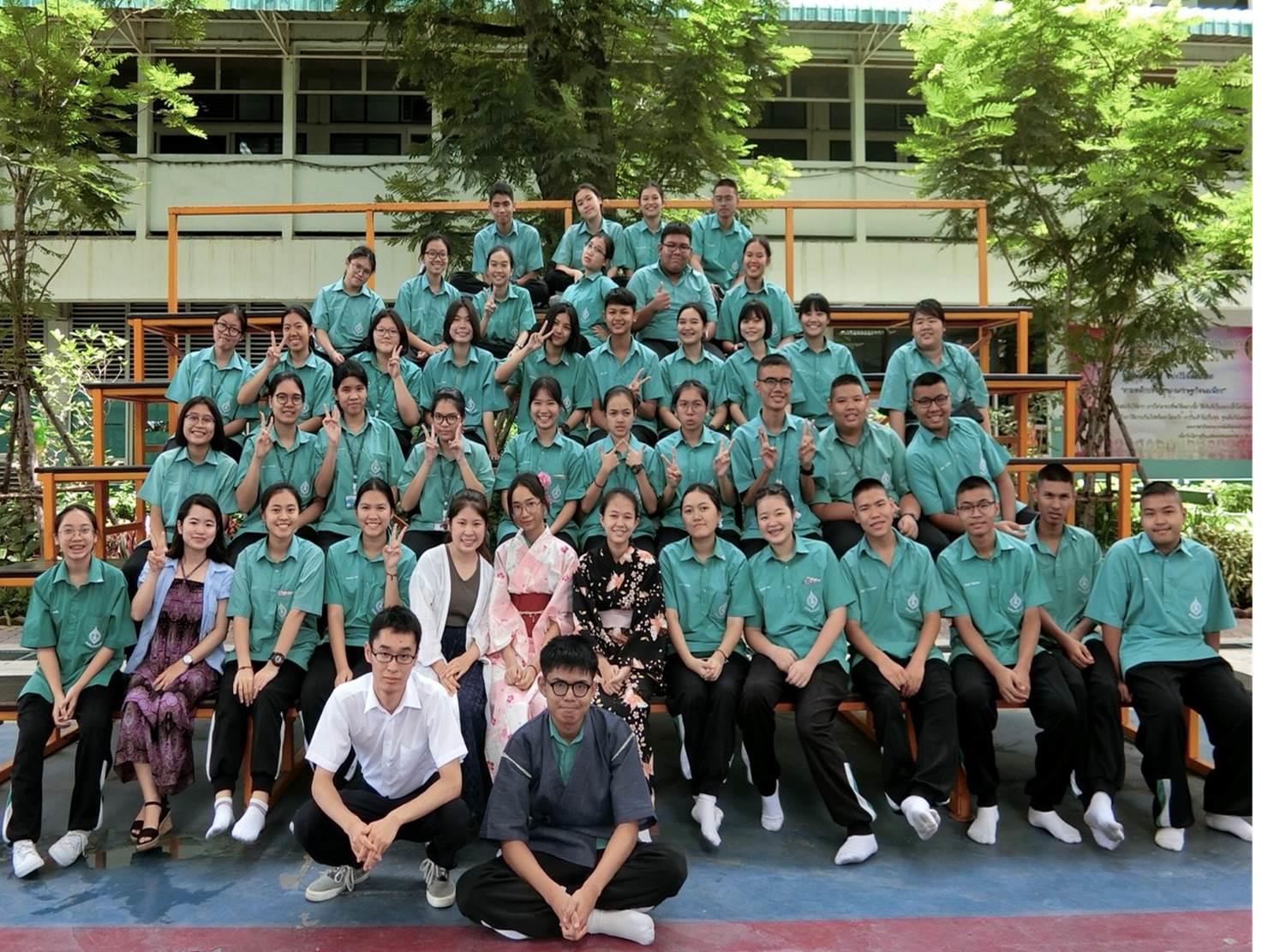 Petra Christian University, Indonesia
Students from all over the world engage in the community support activities in the village such as maintenance and repair works for facilities
The most memorable thing is that we shared about ourselves with my Indonesian roommates and student participants from the Netherlands. Students in each country had very different values and way of thinking, and the size of their dreams in the future, how they see about themselves, etc. and I found these things stimulating. Also, not only talking about ourselves but also exchanging opinions about things we discussed with other foreign participants, led me to change the way I think directly. As for the service activities, the difference in the way Japanese work in a group made a big impression on me. In Japan, when doing something in a group, we tend to feel guilty when others are working and we are not, or the other way around, always conscious of what others see us but this time I did not feel so much like that among the participants. Perhaps it is because of cultural difference, which I find interesting.
There were few Japanese participants in the program, and I think the part where all other students were foreign students was very good. I felt that it was good that I chose Indonesia, that I could learn a lot by interacting with people from various countries, through which I received stimulation even from daily life there. Anyway, I received influence by foreign students which I could not receive just by interacting with Japanese students, and it was a valuable experience for me with influence on my future.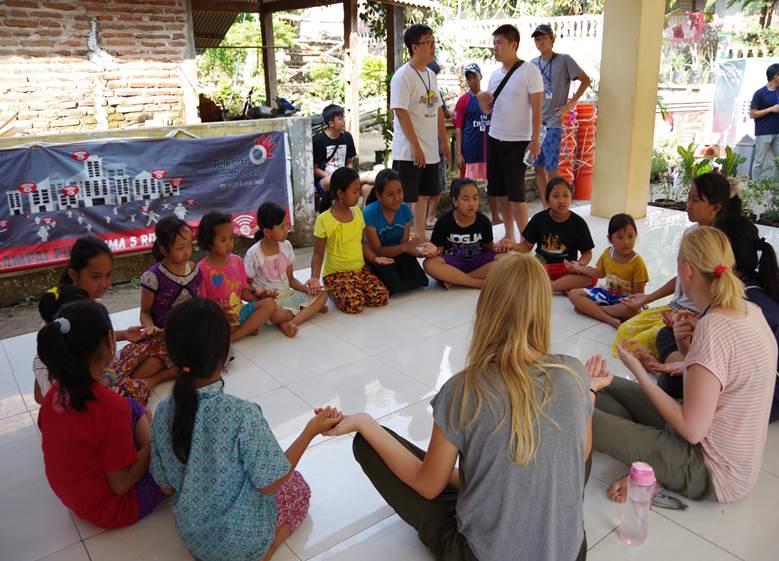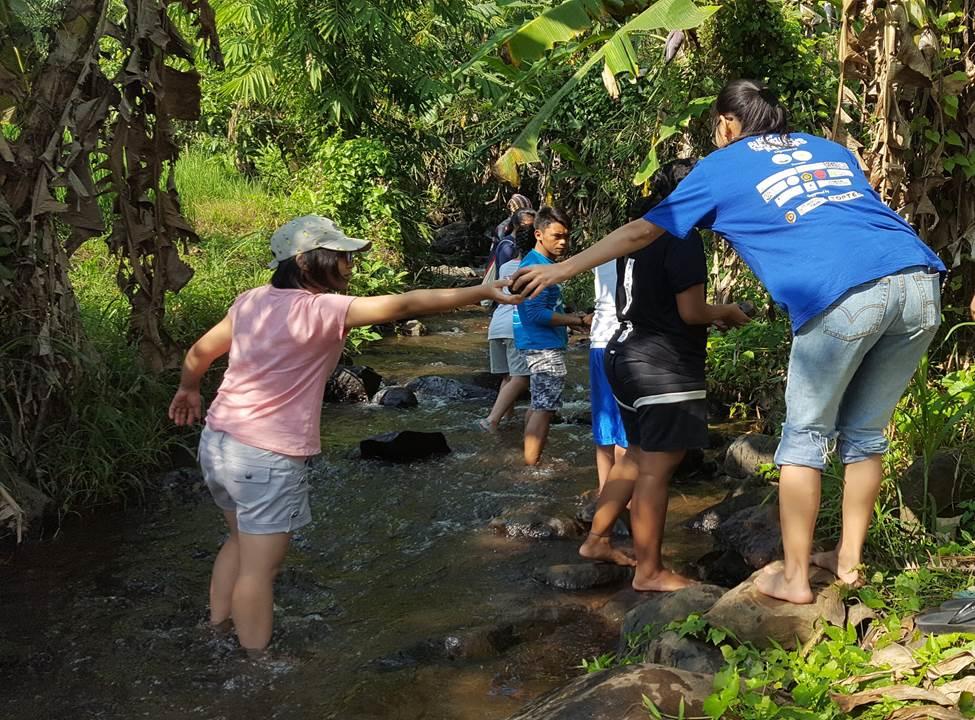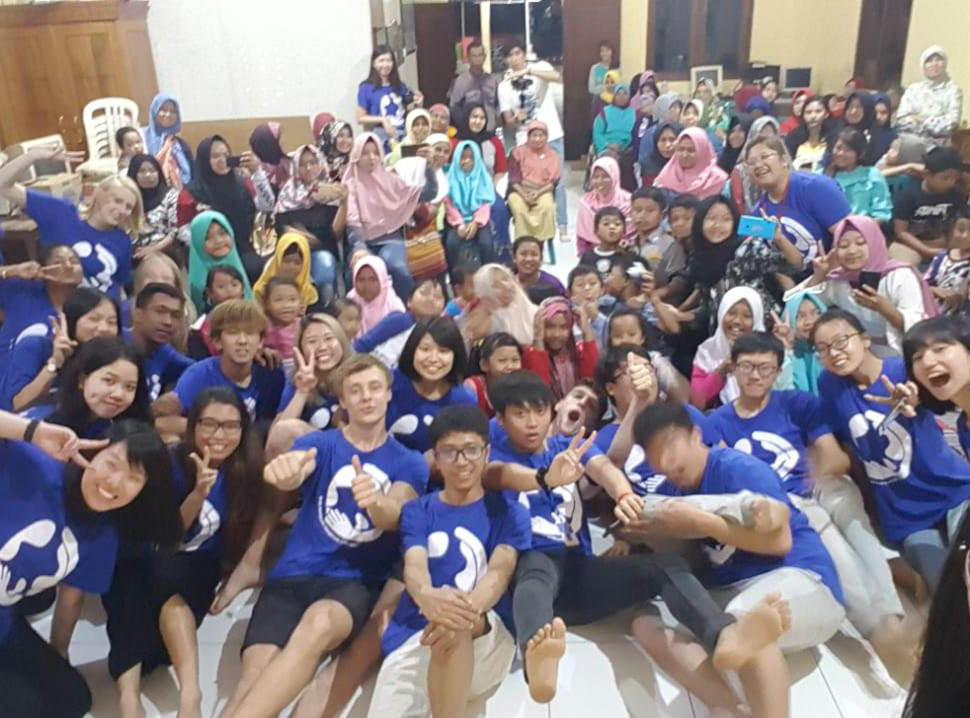 Silliman University, Philippines
Service activities at multiple organizations with the different focus every week( e.g., Children's homes, DV victim assistance centers, villages, elementary schools etc.)
Every week I visited various institutions such as elementary school, and the most impressive experience is to introduce Japanese culture at public elementary schools. As ICU students were supposed to prepare for classes by thinking and having discussion together, I felt a great sense of accomplishment after finishing the class. Also, it was a good experience to have a four-night homestay in a rural village. It was a quite short period of time, but I could spend slow and comfortable time in such an environment completely different from Japan (no wifi, washing in the river, house surrounded by chickens, cows, and pigs). Many relatives of my host family often came to see me, so I spent a lot of times with their children. Since the schedule was not fixed during the homestay, I learned traditional textiles from my host family, played with the children on the river and enjoyed nature. I was worried about before homestay because it was a different environment from my normal life, but I could spend a relaxing time and my physical condition became better since then. Living in other countries than Japan for a month could be challenging, but I thought I do not want to go back to Japan! after all. The more you think of it, the stronger the connection you can make with the people you meet there.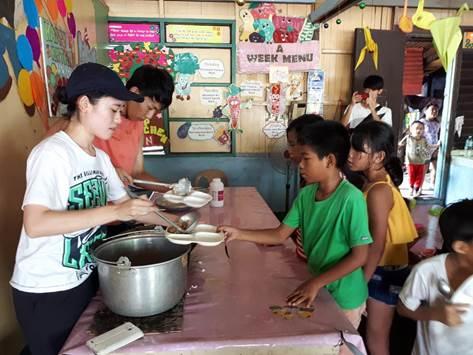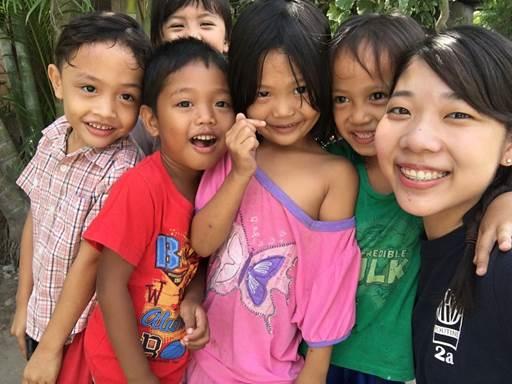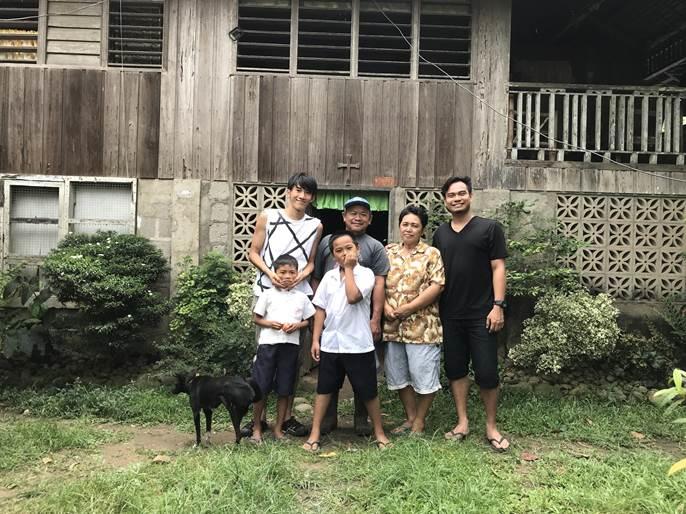 The Amity Foundation, China
Working at facilities for the mentally disabled operated by the Foundation and have opportunities to mix with various generations from children to the elderly
At the community center in "Kunshan," we, two of ICU students, played handcrafted "Karuta" with children and I was glad that they were so passionate about it. We were requested to introduce Japanese cultures to about 20 students from kindergarten to elementary school, by playing some games and activities using English with them. Since we were not able to prepare enough in advance, and didn't have much stuff to bring with us to China, we tried to use something that we could get at local shops. Then I thought of Karuta (traditional card game in Japan) in English, and we made original cards by drawing pictures with paper and colored pencils. I felt so happy when children enjoying Karuta after we worked so hard on it. During the program, sometimes I was not ready for my duty and felt puzzled, and sometimes it didn't work well, but I could obtain learning and growth by repeating trial and error while thinking about what can be done at the position where I was placed. This program in China may be simpler than others, but it can be more fulfilled and challenging because you are given your own job and can be motivated and responsible for it, with support from staff of the Amity Foundation.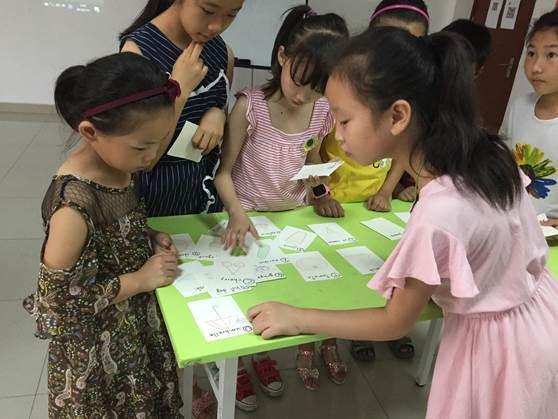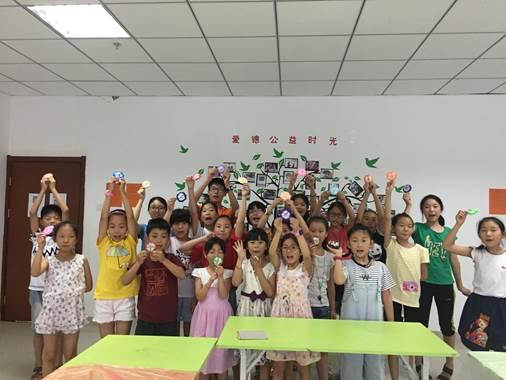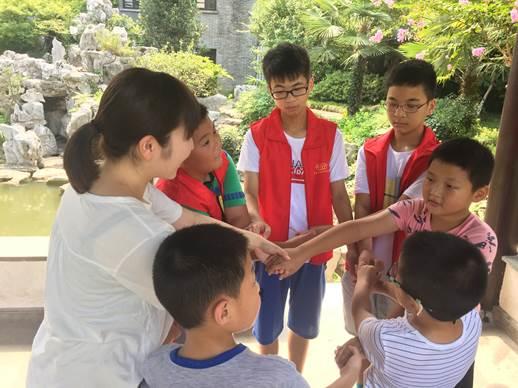 GLMi, Kenya
Assistance of elementary schools and visiting local NPOs and volunteer organizations
I visited elementary schools, local NPOs and volunteer groups in Kajiado area. Originally, I was interested in working in the field of international cooperation, but when I actually went to Kenya, I learned more about the difficulties such as aid dependency problems. While there is a desire to help the local people, I sometimes tried not to do too much, because the main purpose of service-learning was to do what I can do for them and to learn something from that. Through this experience, I felt that development would not be possible unless the local people became independent, and I learned the difficulty of development. This time it was a huge benefit as we could see both actual field of elementary school and the United Nations that controls it.