May. 9, 2019
【FD Workshop】ABC to VLE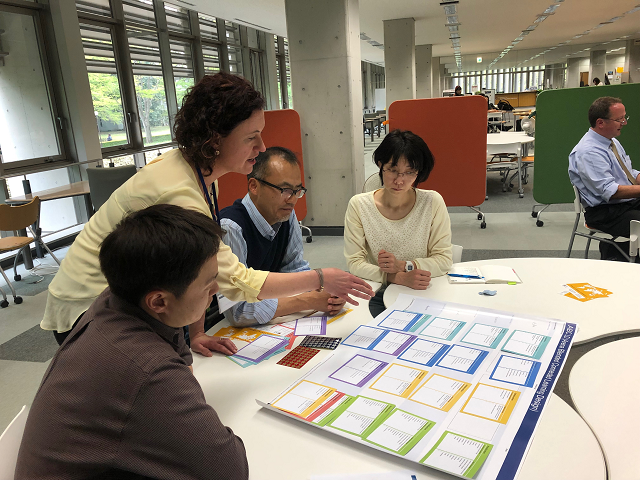 On Monday, April 22nd, FD workshop by Dr. Briony Supple and Dr. Laura Lee from University College Cork was held at Othmer Library 1F and 14 ICU faculty and staff members attended.
The theme was Arena Blended Connected(ABC) to Virtual Learning Environment(VLE).
The ABC is a 90-minutes curriculum development workshop method developed by University College London, which helps the curriculum team to gets together, create a storyboard for visualizing student's learning activities, and select/order the range of activities through intense discussion aiming for the curriculum renewal or redevelopment to increase blended program or connected curriculum.
In the workshop, the participants created their curriculum storyboard by having outlined their course module in Tweet style and having used 6 color cards each representing 6 types of learning activities(Aquisition, Inquiry, Discussion, Practice, Collaboration, Production). The visualized learning activities helped the curriculum team to have creative discussions for providing the best learning types including the usage of LMS and evaluation.
Related Links:
ABC Learning Design: https://abc-ld.org/
ABC to VLE - Curriculum Workshop Tools: https://blogs.ucl.ac.uk/abc-ld/abc-arena-blended-connected-curriculum-design/
Unit Sequence Template: https://elibrary.utas.edu.au/lor/items/1f5c4a3d-74cc-4625-8c8d-96f99e0607eb/1/
Assessment: http://www.assessmentdecisions.org/