About Faculty Development Newsletter
We have produced a bilingual FD Newsletter at ICU, and we take great pleasure in making it available on the internet. And, just as we hope to contribute to Faculty Development outside ICU, we look forward to learning about efforts at other institutions in Japan and abroad. We look forward to these reciprocal efforts and, for now, thank you for your interest in our program.

Director, the Center for Teaching and Learning
The Latest Version
FD Newsletter Vol. 25, No.2 February 2021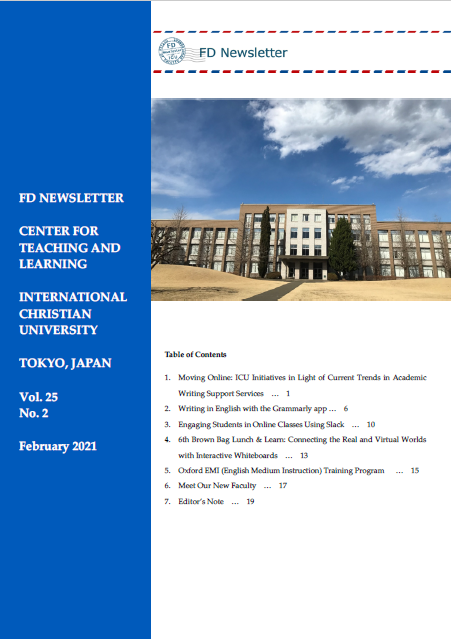 Contents
1. Moving Online: ICU Initiatives in Light of Current Trends in Academic Writing Support Services
2. Writing in English with the Grammarly app
3. Engaging Students in Online Classes Using Slack
4. 6th Brown Bag Lunch & Learn: Connecting the Real and Virtual Worlds with Interactive Whiteboards
5. Oxford EMI (English Medium Instruction) Training Program
6. Meet Our New Faculty
*ICU faculty, staff and students only
7. Editor's Note
Please click the following links to open the full version.
You will need Adobe Acrobat reader to view the below newsletters. Adobe Acrobat file reader can be downloaded free from Adobe's site.
* To read "Meet Our New Faculty", please click the link above and login Google with your ICU Net ID (@icu.ac.jp).
Related Contents