About Faculty Development Newsletter
We have produced a bilingual FD Newsletter at ICU, and we take great pleasure in making it available on the internet. And, just as we hope to contribute to Faculty Development outside ICU, we look forward to learning about efforts at other institutions in Japan and abroad. We look forward to these reciprocal efforts and, for now, thank you for your interest in our program.

Director, the Center for Teaching and Learning
[The latest version for both internal and external readers]
FD Newsletter Vol. 27, March 2023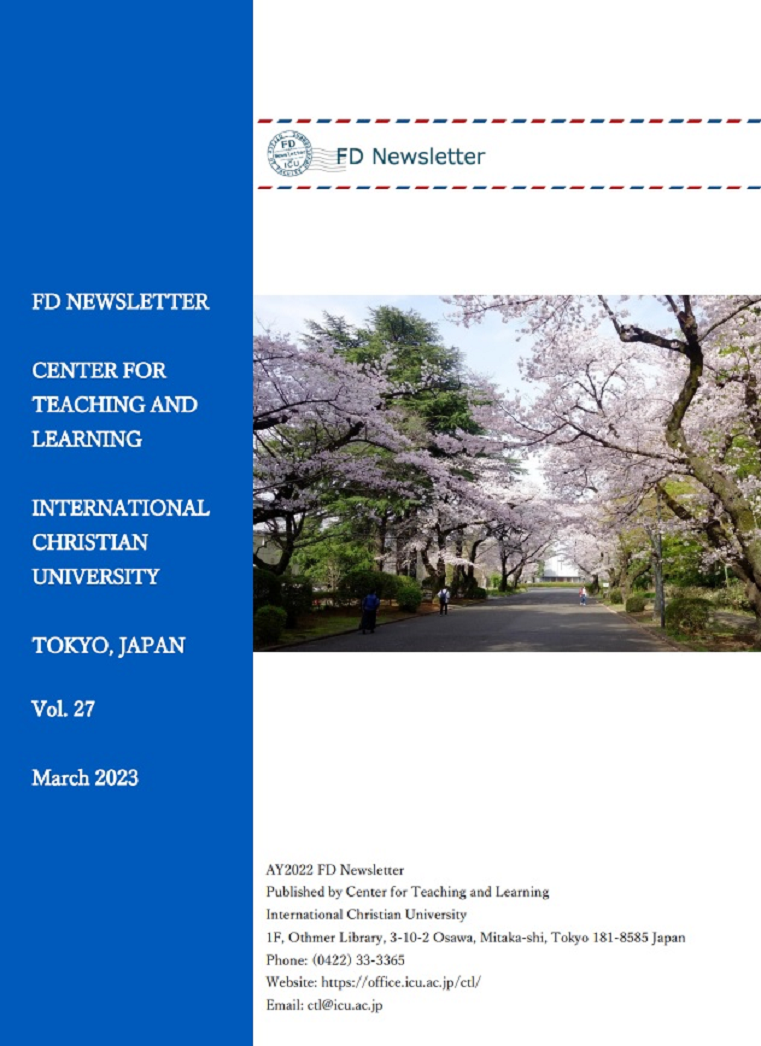 Table of Contents
AY2022 FD Activities

Simply Read: An Experience with Perusall

Facilitating Debates in a Hybrid or Mixed-Mode Classroom

Supporting University Students with Disabilities

The Role of Universities in Building an Inclusive Society: Professor Yasuko Futaba's Guest Lecture and ICU's Student Supporters for Students with Disabilities

Creating a More Inclusive Learning Environment: Insights and Initiatives from CTL's FD Seminar in 2021

Teaching Argumentation in the ELA

Enhancing Student Participation in Large Online Courses

Assessments, Feedback, and Grading at ICU

From English Medium Instruction (EMI) to Japanese Medium Instruction (JMI): Applying EMI Pedagogy to Higher Education in Japan

Report on the AY2022 Faculty Retreat: The Future of Online Teaching at ICU 

Addressing the Challenge of Cognitive Bias for College Critical Thinking

Report on the NACADA 2022 Annual Conference

FD Newsletter Vol. 27
[For internal readers]
We publish the FD Newsletter for full-time faculty and general staff members once or twice per term by email and on the internal website.
The internal website is accessible from here. (Please log-in with your ICU NetID.)
Related Contents