Dec. 5, 2018
(Finished)Request for Exit Survey for Graduating Students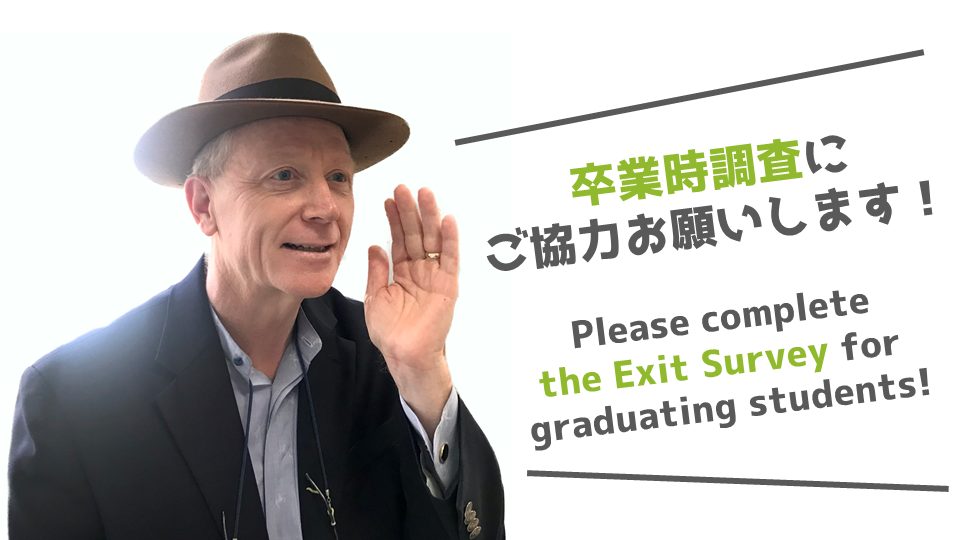 Request for Exit Survey for Graduating Students
(To graduating students)
Request for Exit Survey for Graduating Students
The Center for Teaching and Learning regularly conducts an Exit Survey for Graduating Students as part of its continuing effort to improve the quality of learning at ICU. As graduating students, your participation in this survey will greatly help us accomplish our mission of "Doing Liberal Arts."
We would like to know about your experience at ICU. Your answers will remain confidential among staff members of ICU and be used only for the purposes of this study. Your candid observations will be highly appreciated.
Thank you for your cooperation and congratulations on your graduation from ICU. On behalf of the entire staff at ICU, I wish you every success in your future.
Alberg, Jeremiah L.
Director of the Center for Teaching and Learning

Date: from December 4, 2018 to March 13, 2019.
Survey URL: https://goo.gl/forms/78aeZ5NcsM7KKAV43
*We will give out graduation certificates (EJ) and transcripts (EJ) for free to all respondents to the survey. Please refer to the explanation screen which appears after answering.